Mario Malinconico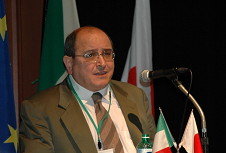 Graduated in Industrial Chemistry at University of Naples, 1979.
Research Director at the Institute on Polymer Chemistry and Technology of Italian National Research Council, Naples, Italy,
Head of the Laboratory of Polymer Synthesis and Chemical Modification of Polymers
2013 Awarded of the 2013 IUPAC Distinguished Award
2012 Appointed as Member of the Board of Directors of UNIPLAST, The Italian Normative Body for Plastics
2011 Appointed by the Association of Bioplastics (ASSOBIOPLASTICHE), Italy, as Coordinator of the ST Committee
2010 Appointed as Italian Representative at IUPAC by CNR, NAO
2007 Nominated as one of the two Eligible Directors of Institute on Polymer Chemistry and Technology (ICTP-CNR)
2005 Appointed as Research Director at ICTP
2004 Winner of one of the 3 the St. Andrews Prize's for the Environment for his studies on biodegradable mulchings
2003 Coordinator of the LIFE Environment Project "Bio.Co.Agri" (Biodegradable Coverages for Sustainable Agriculture) .
2002 Coordinator of The Commission for Environment and Cultural Heritage of the Italian Association of Science and Technology of Macromolecules (AIM)
2000 Responsible of the Research activity for the ICTP in the frame of an European GROWTH Project on Bioplastics
1979-1981 appointed as Research Assistant at University of Liverpool, Dept. of Inorganic, Physical and Industrial Chemistry.
Appointed as lecturer at Universitat des Andes, Bogotà, Colombia.
Expert in synthesis of condensation polymer and copoymersr, polymer blending and reactive blending, chemical modification of natural and synthetic polymers, polymer recycling, calorimetry, extrusion and molding of plastic materials.
Author of 170 papers on internationally reviewed journals, of 15 patents and of many chapters in international books and handbooks.
Reviewer of Polymer for Advanced Technologies, Polymer Degradation and Stability, Polymer.