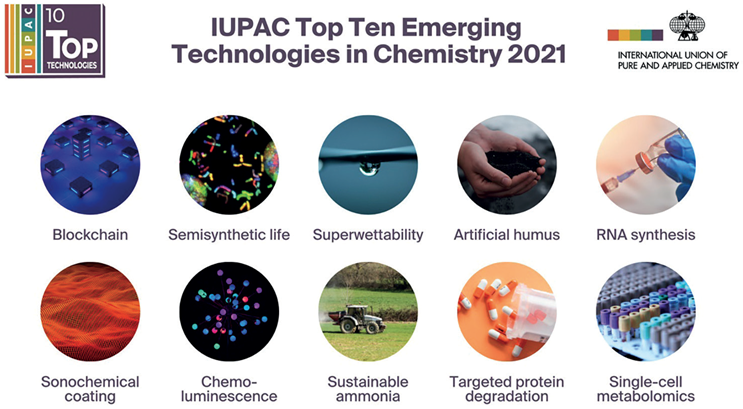 IUPAC TOP 10 EMERGING TECHNOLOGIES in CHEMISTRY 2021: the point of view of the 10 Italian YOs
In a nice contribution, the result of a fruitful teamwork, the Italian IUPAC YO present and comment on the issue 2-2022 of "La Chimica e L'industria", magazine of the Italian Chemical Society, the TOP 10 EMERGING TECHNOLOGIES in CHEMISTRY, winners of the IUPAC 2021 call.
---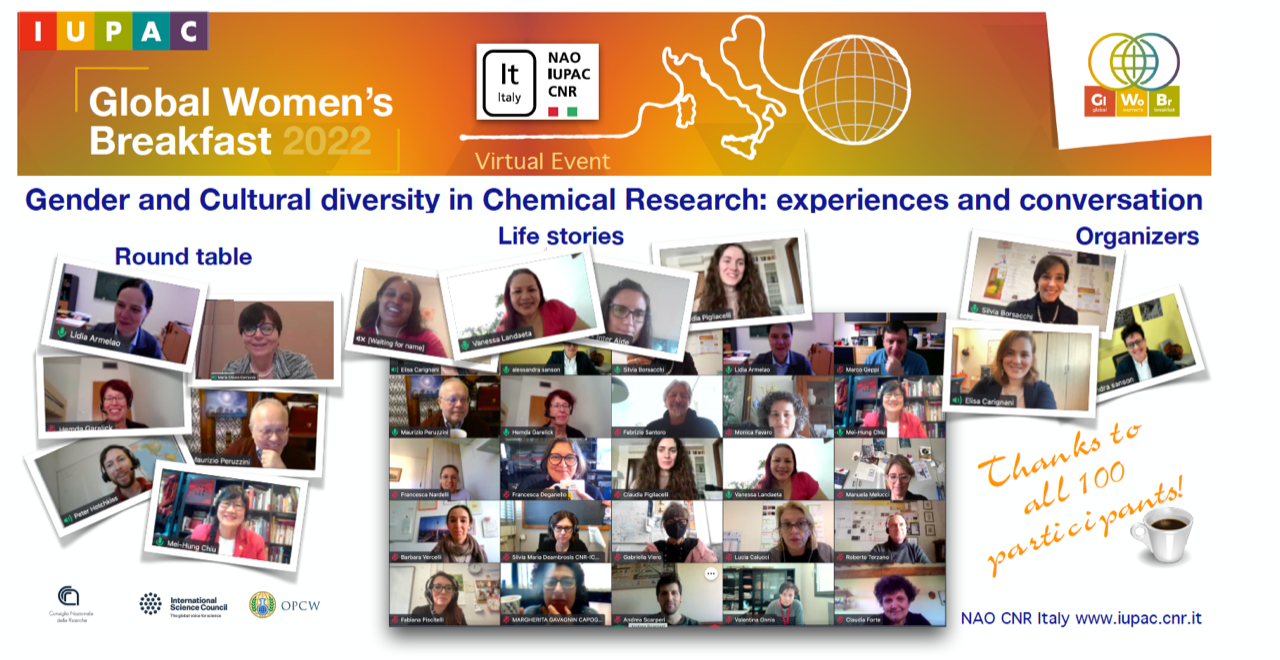 Watch the GWB22 welcome video!
---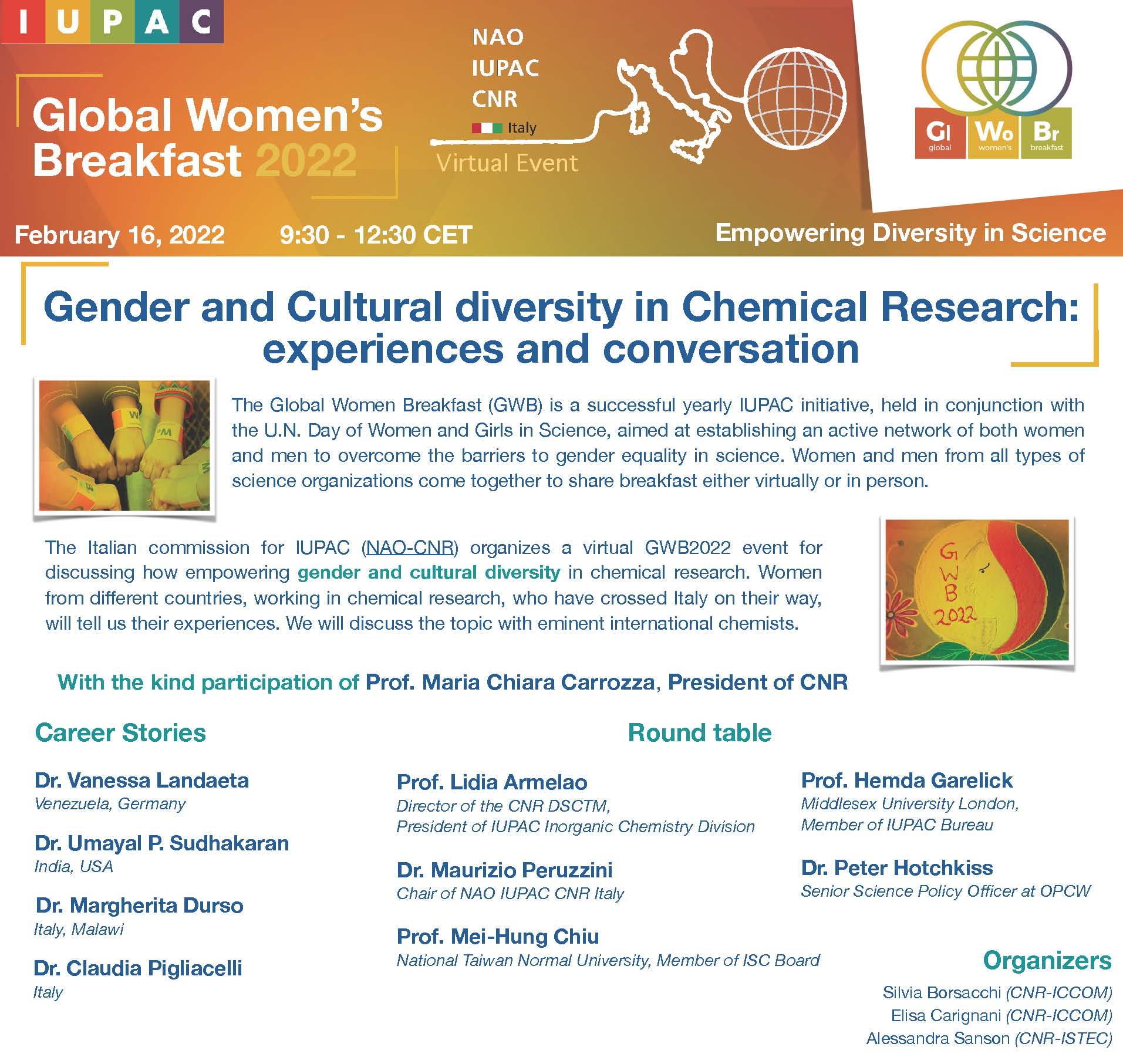 JOIN US ONLINE!Please Register here before February 10th
for further information contact:
---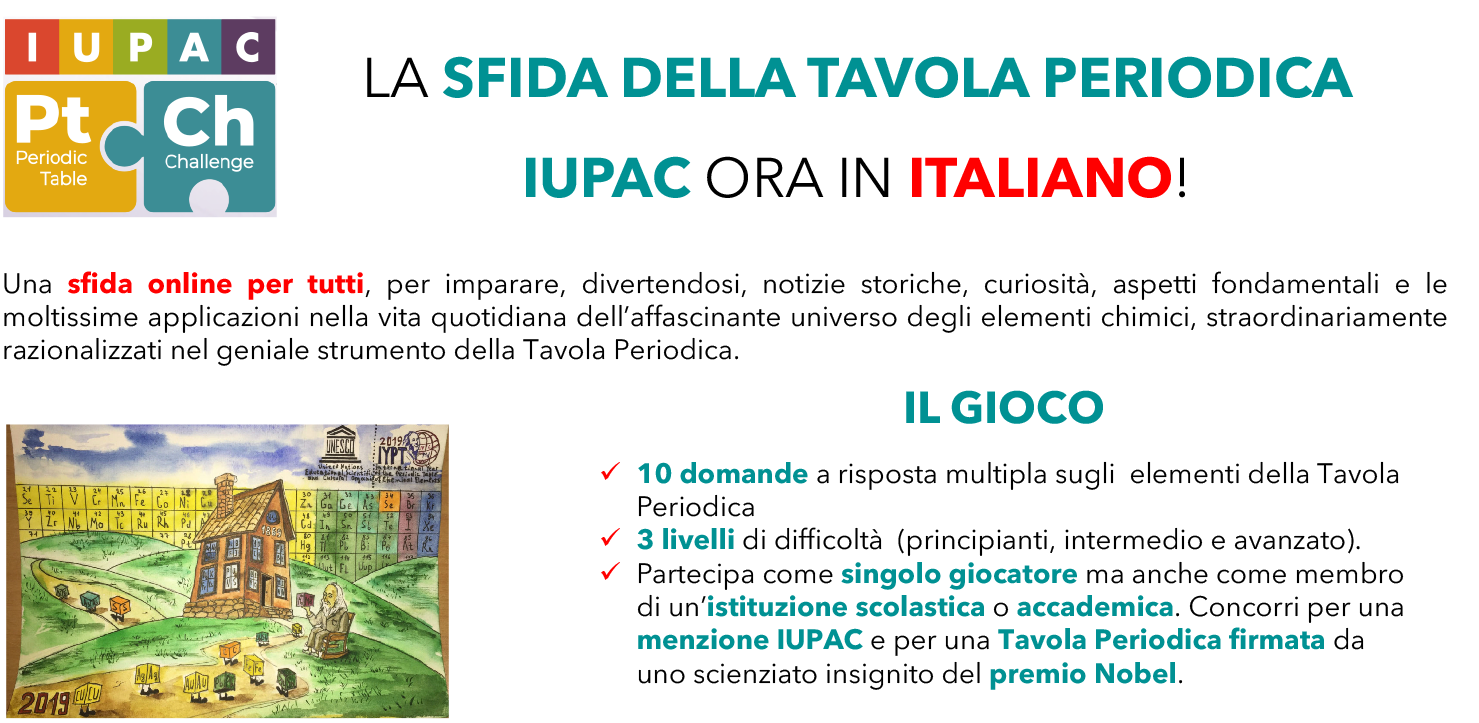 image credit: The Father of the Periodic Table, by
PARVIZ AZIMOV / submitted for the Nobelium context
of the IYPT Periodic challenge, 2019

La Sfida della Tavola Periodica IUPAC è la traduzione italiana della Periodic Table Challenge 2.0, versione aggiornata nel 2020 di un'iniziativa di successo lanciata dall' International Union of Pure and Applied Chemistry (IUPAC) nel 2019.
È un'iniziativa della Commissione Italiana del CNR per IUPAC (https://www.iupac.cnr.it/it/) che ha inteso mettere questo divertente strumento di conoscenza della chimica a disposizione dei tanti italiani residenti all'estero e di tutto il più ampio pubblico italiano.
La traduzione in italiano è stata curata dal gruppo di lavoro coordinato da Silvia Borsacchi e costituito da Federico Bella, Andrea Ienco, Augusta Maria Paci e Maurizio Peruzzini, con la preziosa collaborazione di Angela Agostiano, Lidia Armelao, Marco Taddia e Marco Fontani.
---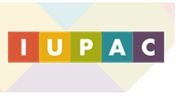 YOUNG OBSERVER 2021

BANDO YO 2021
È aperta la selezione per IUPAC Young Observer italiani 2021.
Scadenza: lunedì 10 maggio 2021 (23:00, CET)
Storie di Young Observer
Il Prof. P. Metrangolo (POLIMI): da YO a Presidente di Divisione IUPAC
(intervista su La Chimica e L'Industria, 2020-4)
Marloes Peeters (Newcastle University)
(How to.... get involved with IUPAC - YouTube)
---


Global Women's Breakfast 2021 is the 3rd edition of a successful IUPAC initiative (https://iupac.org/gwb/) aimed at building a network of both women and men working together to address the barriers and inequalities faced by women in science. The theme of 2021 edition is "Empowering Diversity in Science".
Thanks to the commitment of women, chemists and researchers in Italy, the following online events will be held. The organizers can be contacted for information on participation.
9 February 2021
09:30
POLITECNICO DI MILANO
https://iupac.org/gwb/2021/global-women-breakfast-2021-3/
Prof. Elisabetta Brenna


UNIVERSITÀ DEGLI STUDI DI NAPOLI FEDERICO II
https://iupac.org/gwb/2021/iupac-breakfast-in-naples/
Prof. Valeria Costantino
This email address is being protected from spambots. You need JavaScript enabled to view it.

Flyer

10:00
EUCHEMS
https://www.euchems.eu/join-us-global-womens-breakfast-2021/
Speaker: Prof. Angela Agostiano member of the italian Commission forIUPAC and SCI past-president

UNIVERSITÀ DI SIENA
https://iupac.org/gwb/2021/global-womens-breakfast-21/
Dr. Maddalena Corsini

UNIVERSITÀ DELLA CALABRIA
https://iupac.org/gwb/2021/iupac-global-womens-breakfast-in-unical/
Dr. Fortuna Ponte
This email address is being protected from spambots. You need JavaScript enabled to view it.
---

In an article published in the recent issue of "La Chimica e L'Industria" entirely dedicated to IUPAC (n.4, 2020, https://www.soc.chim.it/riviste/chimica_industria/rivista/2020/4) Maurizio Peruzzini (president of the Italian National Commission for IUPAC, NAO), Matteo Guidotti (NAO member) and Augusta Maria Paci (NAO collaborator as an expert in international relations) tell the story, the present and the future vision of the Italian National Commission for IUPAC.
Abstract
"In the last 100 years, IUPAC has been playing a key role at worldwide level, not only as a reference for the nomenclature of chemical compounds, but also as an authoritative, impartial and supranational organization supporting chemical research and international scientific cooperation. The committee of the National Adhering Organization, NAO, led by the National Research Council, CNR, has set new goals and action lines to enhance the role of chemistry for sustainable development and presence of Italian chemists at global level. In particuar, the National Commission aims at contributing to Sustainable Development, according to UN's Sustainable Development Goals, SDG, exploiting competences and methods of pure and applied chemical sciences to match the new demand for more sustainable solutions with the needs of society and markets."