7-14 July 2018, Palazzo Ducale - Venice, Italy
IUPAC Interdivisional Committee on Green Chemistry for Sustainable Development ICGCSD is organizing a Post-graduate Summer School on Green Chemistry that will be held from the 7th to 14th of July 2018 in Venice.
Applications are now open!
You can find more information about the School at the following Website link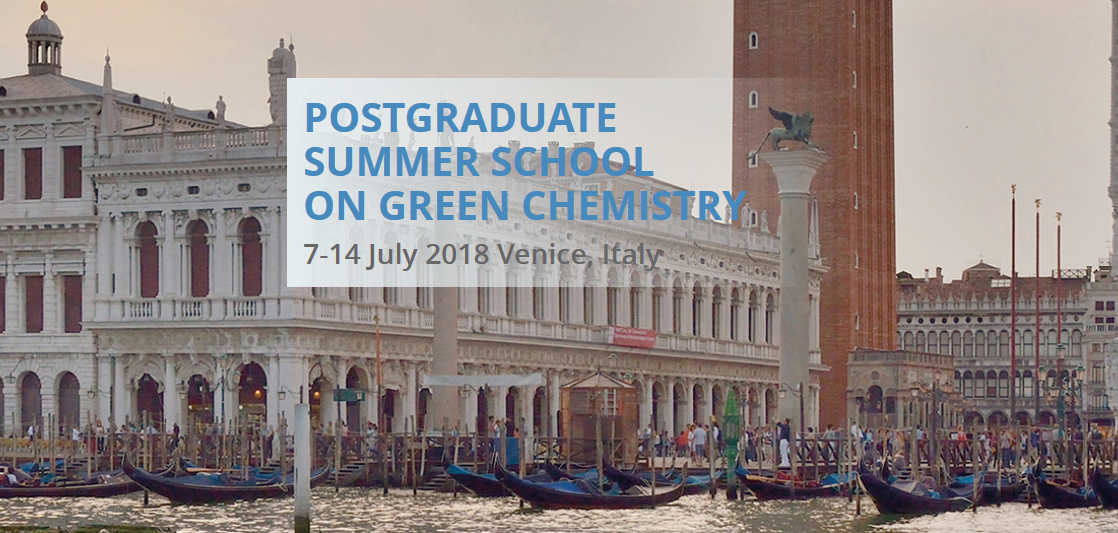 This Summer School will ideally follow the 10 previous editions held in Venice from 1998 to 2008, but this will be the first one under the International Union of Pure and Applied Chemistry IUPAC sponsorship.
Green Chemistry is one of the key sciences of a sustainable development on earth and required for reaching the 17 UN-Goals: IUPAC and ICGCSD are fully aware of their responsibility in working in the direction of Sustainable Development through Green Chemistry.
The School will be hosted in the prestigious Palazzo Ducale, the Doge's Palace, in St. Mark's Square thanks to the collaboration with the the Superintendence of Archeology, Fine Arts and Landscape for the City of Venice and Lagoon.
The second venue is the Cultural Centre Don Orione Artigianelli, a 6th Century monastery in the centre of Venice.
About 80 post-graduate students and 20 teachers coming from all over the world are expected to attend. Scholarships will be offered to young talented chemists especially from developing countries.
The choice of Venice, this extraordinary but delicate architectural masterpiece between land and sea, as Host city for the Summer School has offered the opportunity to highlight the emerging connection of Green Chemistry with cultural heritage restoration and conservation field.
Main topics will be:
Chemistry beyond chlorine

New reaction pathways

Exploitation of renewable resources

Green Chemistry for cultural heritage restoration