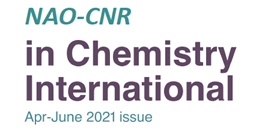 A NAO-CNR CONTRIBUTION TO CHEMISTRY INTERNATIONAL
In an article published in the April 2021 issue of Chemistry International, Matteo Guidotti, Augusta Maria Paci and Maurizio Peruzzini talk about the NAO-CNR, starting from the history of Italy's participation in IUPAC to arrive to the work of the current Commission, aimed at strongly increasing and supporting the contribution of the Italian chemistry to IUPAC and to Sustainable Development Goals.
Abstract
Italy was a founding member of IUPAC in 1919. Italian participation is still vivid thanks to the proactive, collaborative spirit that motivated its initial support of the establishment of IUPAC. The National Research Council, CNR, the largest research institution for public research in the country, is the official representative of Italy at IUPAC through the National Commission operating as the IUPAC National Adhering Organization (NAO).
In coming years, NAO-CNR aims to promote the participation of a larger number of experts in IUPAC international activities, with a special emphasis on the involvement of the last generations of chemists. NAO-CNR will therefore play the important role of catalyst for initiatives and actions proposed by the Italian chemical community to meet IUPAC's priorities and the UN's Sustainable Developments Goals. This will be carried out by promoting the organization of high-level international congresses, workshops, and educational events to be held in Italy. NAO-CNR will work with IUPAC to advance chemistry worldwide, the overall and common goal of all the IUPAC-NAOs.Thanks to a stronger and more fruitful synergy among Italian universities, research agencies, chemical companies, and international organizations, it will be possible to meet the request of sustainable solutions and the needs of the society and market, for today's life and future wellbeing.
https://iupac.org/etoc-chemistry-international-apr-june-2021/