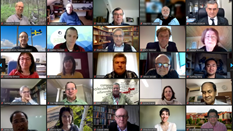 NAO-CNR AT THE IUPAC COUNCIL

A NAO-CNR delegation attended the IUPAC Council held online on May 5, 2021, during which an amendment to the Statutes and Bylaws was approved to allow the Council to meet and vote electronically.
The delegation also actively participated on 9 June in a meeting with the IUPAC President, IUPAC Officers, Review Group Members and Bureau Members to discuss proposed changes to the IUPAC organizational structure. A report of the meeting (in italian) is attached.