ICGCSD will continue to organize the International IUPAC Conferences on Green Chemistry on a biannual basis (ICGCs), which gather several hundreds of scientists, technologists, and experts from all over the world with the aim to exchange and disseminate new ideas, discoveries, and projects on green chemistry and sustainable development.
The 6th Conference on Green Chemistry (ICGC-6) was held on 4-8 September 2016 in Venice and the most talented participants were invited to submit a manuscript based upon their lectures presented at the conference for consideration as a publication in a Special Conference-related Issue of the IUPAC journal, Pure and Applied Chemistry, PAC.
Thirty authors have submitted their contributions which will be published on the PAC SpeciaI Issue.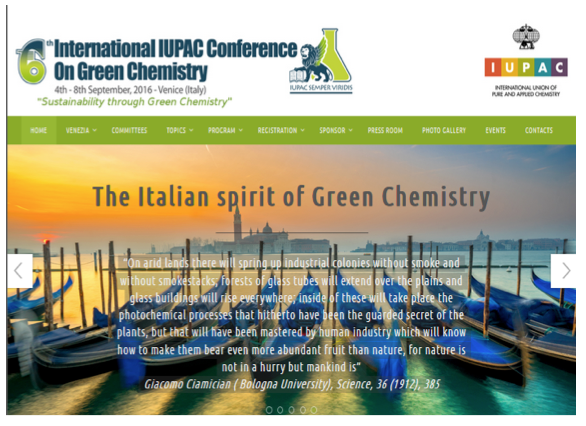 The theme of the 7th IUPAC Conference on Green Chemistry ICGC-7 was the development of chemistry within planetary boundaries and was held in Moscow – Russia on 2-5 October 2017.
The main topics of this conference were:
Sustainable Development Goals (SDGs) and Green Chemistry
Green Materials (Ionic liquids and Supercritical fluids)
Green Industrial Processes (Cleaner production and Green Nanotechnologies)
Green nature-like technology (Supramolecular systems and life-sustaining functions of non-living organic matter)
Capacity-building and technical cooperation (Education)
School for young scientists "Assessment of the Planetary Boundary for Chemical Pollution"
The development of chemistry within planetary boundaries.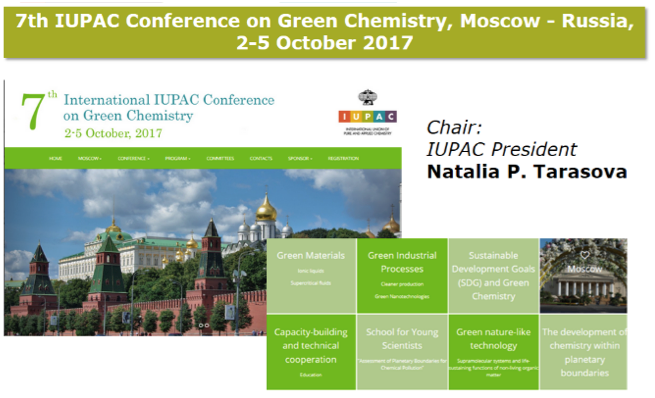 Upcoming Conferences on Green Chemistry

The 8th IUPAC Conference on Green Chemistry ICGC-8 will take place in Bangkok - Thailand, in September 2018 and will be chaired by Prof. Supawan Tantayanon.