The Grant Programme aims to promote the implementation of innovative research projects in Green Chemistry by young scientists.
The Green Chemistry for Life Project was launched in 2013 by UNESCO's International Basic Sciences Programme (IBSP) and PhosAgro, the largest producer of phosphate-based fertilizer in Europe, in close cooperation with the International Union of Pure and Applied Chemistry (IUPAC).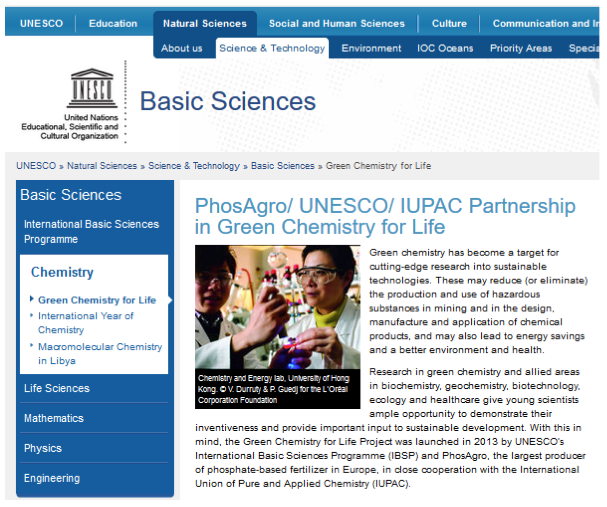 This year in occasion of the 4th edition members of the jury, including Prof. Pietro Tundo, met for two days to judge nominations on 30-31 March 2017 in Paris. Other members of the Jury well known in IUPAC are Natalia Tarasova, Nicole Moreau and Sean Corish, the latter is the Chair of the Jury.
This year 150 applications were received, an increase of 25% on the previous award. This elevated number of applications clearly show the success of the initiative and all this has positive repercussions not only on the young scientists involved, but also on the networks that support the program financially.
Six winners from a range of countries were selected – each will receive $30k to fund their research. The winners were officially awarded during the PPhosagro/UNESCO/IUPAC award-giving-ceremony at 21st St. Petersburg International Economic Forum (SPIEF 21) on 2 June 2017.



The CHEMRAWN VII Prize was first announced in August 2008 and since, has been awarded every two years at the IUPAC International Conference on Green Chemistry. The Prize of USD 5000 is granted to a young investigator (less than 45 years of age) from an emerging region who is actively contributing to research in Green Chemistry.
The Prize has been awarded to Noureddine Yassaa (Algeria) in 2010, Rashimi Sanghi (India) in 2012 and Vania G. Zuin (Brazil) in 2014.
Dr. Ali Maleki (Iran) has been awarded the 2016 IUPAC-CHEMRAWN VII for Green Chemistry.


He received his Ph.D. in organic chemistry from Shahid Behesti University, Tehran, Iran and he is currently an Associate Professor in the Department of Chemistry at Iran University of Science and Technology. Dr Maleki's research focuses on the use of green reaction media such as solvent-free, water, ethanol and ionic liquids; green and clean catalysts and catalytic reactions (magnetically recyclable and reusable heterogeneous nanocatalysts); one-pot multicomponent reactions (least reaction steps and side-reactions or by-products, high yields, saving energy, high atom economy and bond forming efficiency in the synthesis of organic compounds); and bionanomaterials (natural and synthetic biopolymers).